Project Description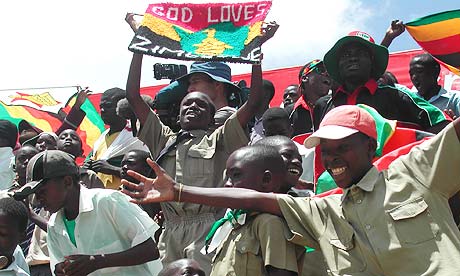 The last decade in Zimbabwean cricket has thrown up the kind of implausible twists that make for a classic Test match.
The abiding memory is of Andy Flower's and Henry Olonga's black armband protest in 2003 against a brutal president who had stolen an election. Eight years on Mugabe remains, although his Zanu-PF party has been forced into an uncomfortable coalition with the opposition MDC.
Since the black armbands there have been so many Zimbabwe cricket walkouts and rapprochements – over racial quotas, player power and administrative incompetence – that it has been hard to keep up. When Zimbabwe suspended its bedraggled team from Test cricket in 2005 the game seemed in terminal decline. The talented 1999 World Cup side – who missed out on the semi-finals on run-rate – was a distant, surreal memory.
But in Zimbabwe one should expect the unexpected. The game now looks to be thriving. A five-team franchise has revitalised provincial cricket, the country hosted a high-profile Twenty20 tournament and the national side posted one-day wins against Test nations.
Most significant is the return of former players to help the former Surrey coach Alan Butcher run the national side. Alistair Campbell is now in charge of selection, with Heath Streak and Grant Flower the bowling and batting coaches.
There have been many false dawns but what is striking this time is how white critics of Ozias Bvute, the Zimbabwe Cricket managing director who imposed racial quotas, now accept he may have been right. Results at the top have not been good but the base has widened dramatically.
"Only he [Bvute] and precious few others saw the big picture back at the beginning of the decade when the game was tearing itself apart," Campbell told this magazine in January. Mugabe's much vaunted "indigenising" of the economy may have been a disaster but in cricket
the approach has borne fruit. The irony of Campbell's comment is that he has been allowed to pick the team on merit rather than by racial quota.
David Coltart, the country's sports minister and long-time opponent of Mugabe, says the cricket situation mirrors politics. In government he has to sit round a table with people whose past actions he deplores. But he has to compromise if the goal of free elections is to be achieved.
In any case Coltart's relationship with ZC's chairman, Peter Chingoka, and Bvute has been a pleasant surprise. Everything he has asked for they have done, including showing him an ICC financial audit of the board's accounts. "For all the negative things and the pain of the past few years, cricket has been transformed in Zimbabwe from a minority to a majority sport," says Coltart. "The development of the five franchises is arguably the most positive development since we achieved Test status in 1992."
Now a new chapter begins with the nation's return to Test cricket and a match against Bangladesh at Harare starting August 4. It is going to be a bumpy ride. Former players Murray Goodwin and Henry Olonga warn against premature optimism. "They can do a job in one-day games but Test cricket is a gruelling mental challenge," Goodwin says. "We had a very strong side when I was there and we were still losing more than we won."
And away from the cricket neither of them trusts the board to keep its promises to players and coaches. "The people who ran Zimbabwe Cricket when it almost destroyed the sport are still running it today," says Olonga. "Forgive and forget is fair enough if the people you are dealing with are trustworthy. But these dinosaurs are still there."
Chingoka admits he is "anxious" about the Test return. Asked about the issue of trust, he sounds suddenly tired. "It's time everyone forgets. You [the press] also need to give us a chance to move on." When it is suggested that a clean break with the past could be signalled by removing Robert Mugabe as patron he becomes exasperated. "To us he remains Head of State. He's [patron] because we asked him to be in 1990, long before all these problems began. Please do not inveigle me in the political side."
But politics is never far from anything in Zimbabwe. Olonga fears violence will return at the elections – expected next year – as Mugabe cracks down on the MDC. Cricket is not terribly important in such a context, he believes.
Coltart argues they must keep talking on all fronts. Just as sitting in cabinet with Mugabe is the only path to free elections, so working with the current ZC board is the only way of making cricket viable in Zimbabwe. But in the long run he wants the game to be administered by former players rather than the current crop who, Chingoka apart, have never played the game.
The immediate issue is keeping the money flowing in from the ICC, which will come from surviving at Test level and qualifying for the World Cup. It matters because each of the shiny new franchises costs £500,000 a year to run – a huge sum in Zimbabwe.
A cricket lover as well as a politician, Coltart enthuses about the crop of young seamers coming through. He worries about school cricket where resources are stretched and some pitches have returned to bush. But overall the picture is unrecognisable from a few years ago when cricket was a sport for the white minority. Now it has the potential to overtake football as the main sport in cities, he believes.
Coltart admits the 1999 side was way ahead on quality. And yet they were from a tiny talent pool. "If the plane had gone down with that team on board we wouldn't have been able to field another side against even Holland." The standard now may be lower but there are two or three potential XIs that can play.  Zimbabwe may just have earned a second chance.